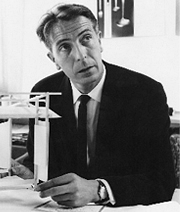 Robert Heritage & Concord
One of the most influential industrial designers to work for Concord Lighting, Robert Heritage was credited with many of the companies most successful products. Heritage was introduced to Rotaflex Concord by its visionary founder Bernard Stern in the 1960's. The first result of that collaboration was Powerflood. Over the next 30+ years Powerflood became one of best selling Concord Lighting product lines.
Still actively working with Concord Lighting in the early 1990's Robert Heritage developed the Control Spot family of track display spots and projectors.
Concord: Control Spot Electronic | 2004
Control Spot Electronic was a late addendum to the maturing Concord Control Spot family of products first launched in the early 1990's. The Control Spot family, designed by Robert Heritage, was a huge range when first launched comprising many different combinations of lamp source, beam angles, lenses (for projection) and accessories. The control gear for the original Control Spot beginning to become difficult to source and in comparison to newer electronic spot lights it lacked efficiency.
To extend the life of the Control Spot range it was decided to add electronic control gear for 35W & 70W CDM-T metal halide lamps. The new diecast aluminium gearbox to house the lamp electronics mated to the existing diecast parts for the lamp housing refreshed the Control Spot offering and gave the product the chance to maintain sales for a few more years.